Resort Opening Day with the Deepest Skiable area Worldwide!
Nozawa Onsen Snow Report 20 December 2014
Base up top: 260 cm    Temp Top;  -8 Degrees
Base at bottom; 195 cm
New Snow since close: 0 cm
Weather; Partly cloudy
A partly cloudy morning today and there is very good news. Today marks the day in which Nozawa Onsen ski resort fully opens. All lifts will be running, depending on weather conditions as will all slopes. With no shortage of powder on offer today looks like it will be epic! Early on its worth exploring the slopes which have been closed without access so far this year. Skyline, Hikage, Kandahar will all be great. Once tracked out head to the treed areas for your fix of powder.
Heres an amazing fact for you. Yesterday Nozawa Onsen had the deepest snowpack out of any skiable resort in the world. That says something about the early season cover we have at the moment. Right now Nozawa about as much snow as late January last year so we are a month ahead. Its exciting to think what the rest of the season will bring.
Looking at the forecast ahead we have no shortage of snow predicted. Snow will fall up top this afternoon, lowering to the resort base overnight into tomorrow and continuing into monday. We should expect a fine, sunny break on Tuesday, Wednesday before further snow later in the week.
Don't forget! Got a great Nozawa ski video from this season that you'd like to share? Or would you like to show yourself off at The Daily Flake to the world by presenting a guest Nozawa snow report? Upload your best efforts and then contact us with the details! Note: We are not a fan of 5 minutes of polecam face shots. Sorry, we prefer something a little more creative.
The Nozawa Onsen Snow Report is presented & supported by Nozawa Holidays and The Daily Flake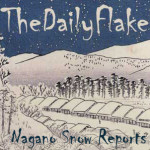 Resort Opening Day with the Deepest Skiable area Worldwide!
Nozawa Onsen Snow Report 20 December 2014