Nozawa Onsen Snow Report 21 March 2015
A Springy Saturday
It's an undeniably beautiful spring day in Nozawa Onsen. Clear skies, sunshine; great spring conditions all round. The snow yesterday turned out to be exceptional yesterday, very fast and slightly slushy; we should look forward to similar quality today. Groomed runs will be the pick all day with carving skis and boards remaining a good choice, although the park will also be very good. Look out for slope style training on the paradise course on an intriguing looking park. Hopefully it remains set up after the competition, set to kick off on Sunday.
Nozawa Snow Report 21 March 2015 (continued)
Looking at the forecast ahead a clear weather is predicted for all today. From then on a promising series of cold snow fronts will move across the region commencing Sunday night. Snow will fall to moderate levels up until late Wednesday at this stage. Should be a very good week ahead.
Snow conditions and weather in Nozawa now
Temp Top; +1 Degrees
Base up top: 390 cm
Base at bottom; 200 cm
New Snow since close: 0 cm
Weather; Clear
The Nozawa Onsen Snow Report is presented & supported by Nozawa Holidays and The Daily Flake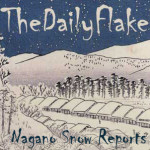 Nozawa Onsen Snow Report 21 March 2015 – A Springy Saturday