Nozawa Snow Report 20 February 2015
Many cm of fresh
Base up top: 470 cm    Temp Top; -5 Degrees
Base at bottom; 260 cm
New Snow since close: 30-35 cm
Weather; Snow
Looks like it has dumped hard overnight. Around the time of last lifts yesterday we saw flakes begin to fall. They were some of the biggest and thickest flakes of the season for about half an hour, accumulation was quick. Since last lifts yesterday 30-35cm has fallen up top and subsequently today the mountain will be completely refreshed from top to bottom. The riding will be excellent in the designated off piste areas and groomed runs will have a nice soft covering.
VERY IMPORTANT! Responsible and self sufficient exploring for all powder enthusiasts involves; knowing where your going with maps and route finding, never going alone and having the equipment and knowledge necessary for avoiding avalanches and facilitating self rescue. This has been something completely absent from a number of skiers and boarders this season blindly chasing powder and ski patrol have made several unnecessary rescues.
Nozawa Snow Report 20 February 2015 (continued)
Yesterday was surprisingly good. With 10cm of fresh that was better in quality than expected there were more than a few fresh turns were had. To top it all off unexpected blue skies lasted almost all day. Nice.
According to the forecast this may be some of the last fresh snow we will have in about a week so make the most of it while it lasts. Tomorrow is supposed to be clear with light winds but by Sunday a dramatic warming trend with rain is predicted. Things will cool off again mid next week with some snowfalls on the cards.

The Nozawa Onsen Snow Report is presented & supported by Nozawa Holidays and The Daily Flake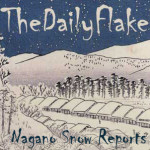 Nozawa Snow Report 20 February 2015