Nozawa Onsen Snow Report 13 February 2014
Light Flurries in Nozawa Onsen
Weather and snow conditions in Nozawa Onsen now
Base up top (Yamabiko – see webcam): 285 cm Temp Top: -9 ℃ Degrees
Base at bottom (Nagasaka – see webcam): 140 cm Temp Bottom: -3 ℃ Degrees
New Snow since close: 3 cm
Weather: Light snow
Nozawa Onsen Snow Report 13 February 2014
Some light flurries about the village today in Nozawa Onsen. Since the close of lifts yesterday we have received just a dusting; 3cm up top and a centimetre in the village. Conditions will be very similar to what we had two days ago regarding the snow conditions. Head to the Yamabiko trees for some fresh lines and the groomed runs will be very fast with a firm base. The big 90m ski jump was in use yesterday so take a look there today to witness some high flying action.
We have some exciting news, the mid range forecast has received a solid upgrade overnight. Based on the current predictions, heavy snow is a looking possible for overnight Saturday into Sunday. With a long lead up of snowfalls, commencing tomorrow, its probable that we will have some deep powder to ride over the weekend. Temperatures are also predicted to be much lower than initially thought with a freezing level of around 500m, dropping even lower on Sunday and Monday and with light snow persisting. In the long range forecast further snowfalls are possible mid way through next week.
Book your Nozawa Onsen accommodation now!
The Nozawa Onsen Snow Report is presented & supported by Nozawa Holidays and The Daily Flake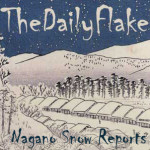 Nozawa Onsen Snow Report 13 February 2014: Light Flurries