The combination of a traditional village feel and a great ski hill makes Nozawa Onsen an excellent choice for your ski trip to Japan. Visitors to Nozawa Village are truly spoiled in the choice of their Nozawa Onsen accommodation options.
Nozawa Onsen Accommodation, Nozawa Hotels Guide.
Go to: Featured – Budget & Minshuku – Ryokan – Pension & Ski Lodges – Hotels & Inns – Self-Contained
Those looking for Nozawa Onsen accommodation will find a wide variety of options. There are down to earth budget or hostel options where you can experience the best value in Nozawa Onsen budget accommodation such as Lodge Nagano, Seisenso Inn or Minshuku Yutaka (which is located just behind the Nagasaka ski lift) and Lodge Matsuya which offers a choice of Western and Japanese-style rooms at affordable prices. There are numerous family pensions and ski lodges dotted across the village and ski hill such as Pension Tannenhof (found right in the centre of the Hikage-ski area), Utopia Lodge and Haus St Anton. Other popular Nozawa lodges right on the slopes include Lodge Hahnenkamm, Lodge Denbee or Pension Schnee. Inns and hotels are plentiful, including the popular Gasthof Schi Heil, Le Fornet Yamane, Maruji Inn and Shirakaba.
There are splendid hotel and inn options in Nozawa such as the Nozawa Grand Hotel which offers you a spectacular view of Nozawa Village. The superb Nozawa Onsen Hotel offers indoor and outdoor hot-spring baths and relaxing massage services. There is also a choice of smaller Nozawa Onsen hotels such as Berg Hutte Miyamori, Gentaroya Bekkan or Land Haus Azegami – which is conveniently located in the centre of Nozawa Onsen town.
There are many self contained options and apartments in Nozawa Onsen such as the newly renovated Address Nozawa apartments or the self-catering Nozawa Cottage, as well as a fully self contained ski-in, ski-out lodges in Paradise Chalet. Of course if you wish to enjoy a traditional Japanese experience try one of the many quality traditional inns or ryokan in Nozawa Onsen such as Naraya Ryokan, Ryokan Sakaya, Kawamotoya, Kawaichiya Ryokan, Shinkinyado Kawahiro, Murano Sumiyoshiya Inn, Tokiwaya Ryokan (standing for over 360 years), Kiriya Ryokan, Asahiya Ryokan, Yuyado Jonnobi, Nakajimaya Ryokan or Seifukan.
Find Nozawa Onsen Accommodation with some of our valued partners – instant confirmation!
Featured Nozawa Onsen Accommodation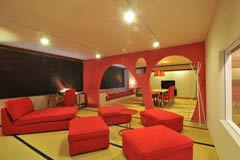 Address Nozawa Apartment Hotel is a stylishly designed apartment hotel that offers 12 serviced studio apartments, each featuring a fully equipped kitchenette, ensuite bath, western beds and high speed internet connection. Being centrally located Address Nozawa makes a convenient base for visiting the town's public hot springs, restaurants and bars. Enquire here. Read or write reviews for Address Nozawa Apartments or check the map to Address Nozawa Apartments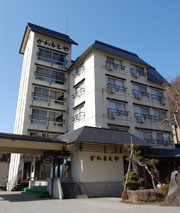 Kawamotoya is our one of our most popular booking options for Nozawa Onsen accommodation. It is a Nozawa Onsen institution that reopened in December 2011 as a boutique ryokan (see map). This inn comprises of 23 guests rooms. Eight rooms have their own private bathroom and fifteen guests rooms have a private toilet. From the east side of the Kawamotoya guests have a nice view on the Nozawa ski resort whilst to the west side of the guests will enjoy a vista of the mountains. Leave reviews for Ryokan Kawamotoya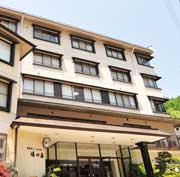 Perched up on the hill in Nozawa Onsen the Nozawa View Hotel Shimataya provides customers with stunning views of the rustic Nozawa Village and wonderful natural hot spring onsen.
Read reviews for the View Hotel or check the map.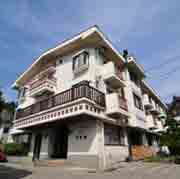 Morino Chiisana Hotel Yamaki is called "the little hotel in the forest" mainly because it is a picture-perfect little hotel, in a quiet backwater less than five minutes from both the main Nagasaka Gondola, as well as from O-yu dori – the main street of Nozawa Onsen. There is a mix of Japanese and Western rooms plus wireless internet in the common areas of the hotel.
Read or write reviews for Yamaki Hotel or see map to Yamaki Hotel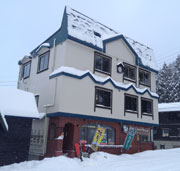 Address Nagasaka is a collection of one and two bedroom comfortable apartments located right by the main Nagasaka gondola in Nozawa Onsen (see map). For skiers, there is no better location! Each apartment is equipped with kitchenette, dining room, bathroom and high speed internet. A ski storage and loundry room are available on the ground floor.

Nozawa Onsen Budget Accommodation, Hostels and Minshuku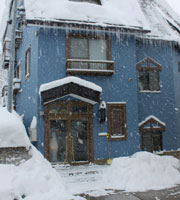 At the Australian owned Lodge Nagano you can experience the best value in Nozawa Onsen budget accommodation. Lodge Nagano has a huge kitchen and great dining room, a relaxing lounge area and chill out home theater room, wireless internet, TV, DVD and stereo. Other facilities include a laundry service with drying room for ski gear, a ski and boot storage room plus work bench for tuning and waxing. In-house ski rental and ski school available. Prices start from JPY 2,500. Read Nagano Lodge reviews or see a map to Lodge Nagano in Nozawa Onsen. Request a quote
Nozawa Onsen Ryokan and Traditional Inns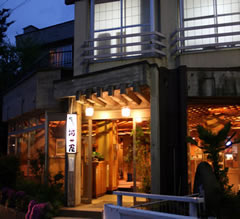 Kawaichiya Ryokan is a Japanese style inn located right in the centre of Nozawa Onsen and prides itself on its fine service and hospitality. It is ideally situated being only about two minutes walk from the central bus stop and close to the main street. The inn has two different kinds of hot springs with the sources originating from the famous Ogama and Shinyu hot springs in Nozawa Onsen. Kawaichiya has Japanese-style guest room with tatami mats as well as Japanese/Western combo guest rooms. Wireless LAN is available. Map to Kawaichiya Ryokan Read or write reviews

Nozawa Onsen Pension and Ski Lodges
At the Australian owned Alpine Villa Nozawa in Nozawa Onsen you can experience the best in Japanese accommodation with friendly staff. Just 200 metres from the ski lifts of and 50 metres from a free-use public hot-spring, guests can enjoy the fireplace lounge, spacious free-use kitchen and home theatre room at Alpine Villa Nozawa. Rooms are Japanese-style and offer mountain views plus the entire property is non-smoking. In-house ski rental and ski school available. Request a quote
Read reviews of Alpine Villa Nozawa – see map to Alpine Villa Nozawa.
Nozawa Onsen Hotels and Inns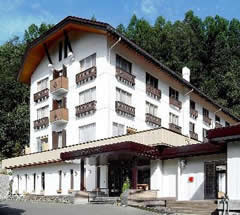 Located in a hot springs resort on a hill, the Nozawa Grand Hotel is a completely refurbished property with the best of Japanese and Western accommodation styles – elegantly designed utilising modern Japanese architecture. It offers guests a spectacular view of Nozawa Village yet is only a 5 minute walk from the Shin-Yu moving walkway to the slopes. The 24-hour large bath is a natural hot spring with both indoor and outdoor pools.
Check reviews on Nozawa Grand Hotel
Map to Nozawa Grand Hotel, Nagano 
Nozawa Onsen Self Contained Accommodation

Nozawa Cottage is a self-contained cottage that is only a short 150 metres to the main Nagasaka Gondola. The cottage is comfortable for 6 guests but can accommodate up to 8. In-house ski rental and ski school available. Request bookings or further information.
Nozawa Onsen accommodation & hotels map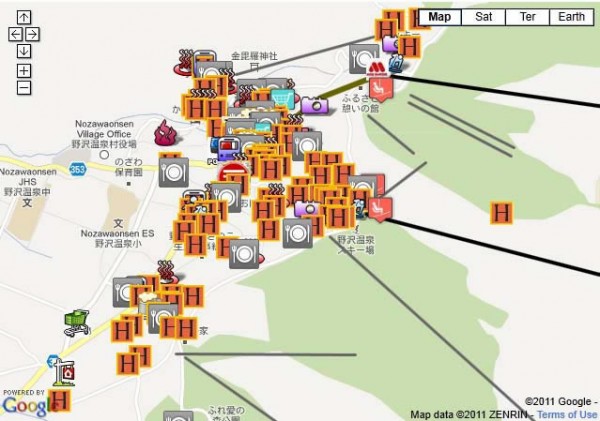 View a larger Nozawa Onsen Accommodation & Hotels Map