Nozawa Onsen Snow Report 17 February 2014
Pow pow in Nozawa Onsen
Weather and snow conditions in Nozawa Onsen now
Base up top (Yamabiko – see webcam): 315 cm Temp Top: -7 ℃ Degrees
Base at bottom (Nagasaka – see webcam): 215 cm Temp Bottom: -1 ℃ Degrees
New Snow since close: 10+ cm
Weather: Continuing snow
Nozawa Onsen Snow Report 17 February 2014
So much snow here in Nozawa Onsen today that we can't give you much of a report. Too busy trying to shovel everything away. There's been another 10+ cm overnight but that is a bit hard to measure because there's a lot of deeper wind blown snow. Trains are running today although look out for delays or sudden cancellations. There are still problems on the Nagano shinkansen line between Nagano and Karuizawa.
As for the rest, everything is pretty much the same as yesterday:
The skiing and boarding today will be pretty good but may be difficult with the heavy snow creating easy conditions for getting stuck. Fat skis and powder boards only in the trees today and be prepared for long and difficult hikes out if you loose speed and get stuck. Those who are equipped and experienced in these kind of conditions should enjoy the deep powder, but those not so should stick to the marked trails. Hazardous conditions in the backcountry, avalanche risk is very high
Looking at the forecast ahead, snowfall rates should ease off this afternoon in combination with the wind abating. Light snow will continue overnight and into tomorrow, becoming isolated on Tuesday. Temperatures should decrease over this time with the freezing level dropping down to sea level. Wednesday looks to be partly cloudy before another system moves over Thursday into Friday.
Book your Nozawa Onsen accommodation now!
The Nozawa Onsen Snow Report is presented & supported by Nozawa Holidays and The Daily Flake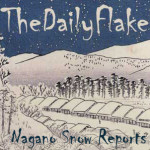 Nozawa Onsen Snow Report 17 February 2014: Pow pow in Nozawa Onsen