Nozawa Onsen Snow Report 7 February 2014
Re-building a great base in Nozawa Onsen!
Weather and snow conditions in Nozawa Onsen now
Base up top (Yamabiko – see webcam): 290 cm Temp Top: -8 ℃ Degrees
Base at bottom (Nagasaka – see webcam): 145 cm Temp Bottom: -1 ℃ Degrees
New Snow since close: 20 cm
Weather: Clear at the bottom, a bit foggy at the top.
Nozawa Onsen Snow Report 7 February 2014
Very cold temperatures are continuing in Nozawa Onsen at the present time. This morning it was -10 ℃ degrees in the village. There has been 10-20cm of fresh snow since the last reports. The piste is in better condition now as compared to the last week or two. It has a soft top and there will be plenty of fresh to be found in the trees. However still take care as the base needs to be consolidated especially on the lower slopes.
Good luck to Ueno Manami from Nozawa Onsen who is competing at Sochi in the freestyle skiing women's halfpipe. Manami is a member of the Nozawa Onsen Ski Club. Ganbatte Manami-san!
Further ahead, we expected another extended period of moderate snowfalls and cold temps from Saturday into Tuesday next week. From then on things are not quite as clear. Donb't forget that the Iiyama Snow Festival is on this weekend for those in the area.
Book your Nozawa Onsen accommodation now!
The Nozawa Onsen Snow Report is presented & supported by Nozawa Holidays and The Daily Flake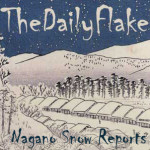 Nozawa Onsen Snow Report 7 February 2014: Re-building a great base in Nozawa Onsen