Nozawa Onsen Snow Report 2 February 2014
Icy patches in Nozawa Onsen
Current snow and weather in Nozawa Onsen (lunchtime)
Base up top (Yamabiko – see webcam): 250 cm   Temp Top: +4 Degrees
Base at bottom (Nagasaka – see webcam): 125 cm      Temp Bottom: +6 Degrees
New Snow since close: 0 cm
Weather: Cloudy up top, clearing at the bottom
Nozawa Onsen Snow Report 2 February 2014
A slightly clear morning here in Nozawa Onsen today with some fog up the top.  We have some mid to high level altostratus cloud affected by strong wind sheer. This tends to indicate it will be windy at the peak today, so some lifts may be placed on wind hold. The visibility below the cloud layer is excellent, look for patterns of sun streaking across the surrounding ranges. No new snow overnight and it's very warm here for February.
Unfortunately we have some warm temperatures today, positive across all elevations of the mountain. As a result soft and forgiving spring like conditions will prevail. There is some chance of rain later in the day and possibly tomorrow. The Nozawa weather forecast fortunately shows more snow returning on Tuesday and Wednesday.
Head for high traffic groomers which will retain the greatest speeds. Today conditions will be akin to a pleasant springtime ski. Firm pistes softening as the day goes on. Alright for some gentle turns and a couple of beers in the sun afterwards.  Also worth a look is the ski jump competition which is taking place near the bottom of skyline and the downhill event on Kandahar. Also check out the free snowboard test rides today over on Kandahar slopes.
Luckily these warm temperatures will soon move on. The freezing level is forecast to take a massive nosedive around lunch tomorrow. Moderate snowfalls are expected commencing Monday night, continuing until Thursday. Temperatures will be very cold, around -12C at the summit, before windchill. Following this extended snowy period we should see clear conditions before further forecast snowfalls next weekend. Very cold temperatures will remain throughout. Be careful if you are driving because there are some icy patches on the roads.
Book your Nozawa Onsen accommodation now!
There's a couple of popular events coming up in nearby Iiyama City. At present you can visit the kamakura in Shinanodaira which have been built by local volunteers and eat delicious nabe hot pot. Make sure to pre-book your reservation before arriving. Next weekend is the famous Iiyama Yuki Matsuri (Snow Festival). See here for English information.
The Nozawa Onsen Snow Report is presented & supported by Nozawa Holidays and The Daily Flake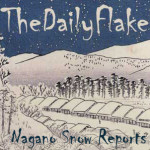 Nozawa Onsen Snow Report 2 February 2014: Sunny and softening