Nozawa Onsen Snow Report: 16 December 2014
Massive Dump Tomorrow
Base up top: 190 cm    Temp Top;  -4 Degrees
Base at bottom; 140 cm
New Snow since close: 0 cm
Weather; Overcast

Everyone has been shovelling hard around the village late into the night yesterday. This means only one thing, snow is coming! Forecasts suggest heavy snows are expected over the coming days right up to the end of the week. Combined with what fell over the weekend we are looking towards a very solid december base indeed.
No new snow fell overnight and yesterday afternoon felt decidedly warmer once the snowflakes had cleared. Compacting the base is what we are after at the moment and warmer temperatures expected today should continue to impact this change.
Again today the best riding will be had on the groomed runs. The trees are quite well filled in now but there may be more than a few hidden branches ready to snag unsuspecting riders so best steer clear until adequate base compaction occurs.
Casting our gaze towards the forecast we should see snow increase today continuing to build in intensity tonight. Tomorrow should be insane blizzard conditions. Very heavy snow in combination with strong winds will limit potentially accessible areas. On Thursday snowfalls will decrease to moderate levels before a clearing trend is expected into the weekend. Further snowfalls are expected early next week.
See the Nozawa Onsen webcams for current conditions.
So if you are still thinking about your Nozawa ski trip for this season already you can book some Nozawa accommodation deals right now or check out the great packages at Nozawa Holidays.
Don't forget! Got a great Nozawa ski video from this season that you'd like to share? Or would you like to show yourself off at The Daily Flake to the world by presenting a guest Nozawa snow report? Upload your best efforts and then contact us with the details! Note: We are not a fan of 5 minutes of polecam face shots. Sorry, we prefer something a little more creative.
The Nozawa Onsen Snow Report is presented & supported by Nozawa Holidays and The Daily Flake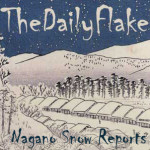 Nozawa Onsen Snow Report: 7 December 2014. Nozawa season starts today