Nozawa Onsen Snow Report 17 December 2015
Snow is in the air!
It's always exciting to wake up and see snow falling outside, and this morning we were blessed with the first lot of predicted snow. The trees have begun to turn white and we can see a nice base starting to develop on the slopes at Nozawa Ski Resort. A few of the guests have already got into the spirit and this morning we witnessed the first snowball fight of the season.
There's more snow to come throughout the day, particularly up the top of the resort. It's looking like it will be an exciting couple of days to come with some more snow showers predicted and the expected opening of the resort by the weekend. The village farmers are finishing up their work for the season just as the skiers and boarders are preparing for theirs. Stay tuned to keep up with the transition into a real winter here at Nozawa Onsen.
The Nozawa Onsen Snow Report is presented & supported by Nozawa Holidays and The Daily Flake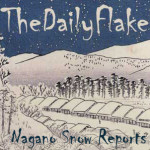 Nozawa Onsen Snow Report 17 December 2015