Nozawa Snow Report 16 February 2015
A Happy Monday
Base up top: 470 cm Temp Top; -7 Degrees
Base at bottom; 305 cm
New Snow since close: 10 cm
Weather; Clear
It's a clear one in Nozawa Onsen with light winds and only a few clouds dotting the sky. With wind resetting tracked out areas there will be plenty of fresh tracks on offer about the mountain.
Nozawa Snow Report 16 February 2015 (continued)
Many people had issues with slow snow and/or incorrect wax type yesterday. Hopefully with overnight grooming and cooling of the snow this issue will not be so prevalent today.
We should see these fine conditions last most of today will a gradual increase in the freezing level over the next 48 hours. Following this a front delivering snow is expected from Wednesday onwards.

The Nozawa Onsen Snow Report is presented & supported by Nozawa Holidays and The Daily Flake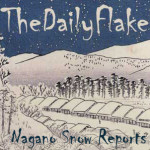 Nozawa Snow Report 16 February 2015