Nozawa Snow Report 28 January 2017: Stats
Base at top: 310 cm
Temp at Top: -7 Degree
Base at Uenotaira station: 250 cm
New snow since close: 5-10 cm
Weather: Partly cloudy
Nozawa Snow Report 28 January 2017: Overview
It will probably be a very underrated day out there today. Although slightly busier due to the weekend crowds the snow will be of fine quality with 5-10cm recorded overnight and fairly cold temperatures. The lower mountain will likely be dust on crust material thanks to yesterdays rain. However the upper mountain would have been cold enough to snow for the duration and therefore offer some good skiing, especially later in the afternoon when the fog and clouds move away. The recommendations for today are Yamabiko for the advanced riders and Uenotaira or mid station lifts for the beginners to intermediates. Word is that there is also some ski and snowboard demo over at Kandahar; worth a look.
Strong winds yesterday gusting up to 100km/h forced the closure of the entire upper half of the mountain all day. This is very unusual. Thanks to the low elevation of ski resorts Japan is not a windy place during winter in comparison with other mountain areas. The lower half of the mountain was open for business as usual. With warming temperatures yesterday the snow was slushy, a little slow in parts.
Nozawa Snow Report 28 January 2017: Forecast
We are expecting a warm day tomorrow with some high cloud. Not too dissimilar to yesterday however even a touch warmer. Rain is looking possible during the evening into Monday. Monday will be a poor days skiing. Looking further ahead we may receive some decent dumps of snow during the week with the biggest falls occurring on Monday and Wednesday night interspersed by isolated snow showers. Later in the week continued snowfalls are predicted from Thursday until Saturday.
The Nozawa Onsen Snow Report is presented & supported by
Nozawa Holidays
and
The Daily Flake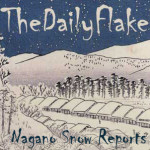 Nozawa Snow Report 28 January 2017