Nozawa Snow Report 31 January 2017: Stats
Base at top: 320 cm
Temp at Top: -10 Degree
Base at Uenotaira station: 250 cm
New snow since close: 40 cm
Weather: Snow
Nozawa Snow Report 31 January 2017: Overview
Just like that the switch has flipped and we are back to full winter mode in Nozawa Onsen. The rain turned to snowflakes at around 330pm yesterday afternoon at village elevation quickly increasing towards heavy falls as the wind swung towards NW. Strong winds fanned the falls overnight and accumulations are heavily displaced towards the leeward slopes, resulting in 40cm at Yamabiko, 30cm at Uenotaira and 25cm down here in the village. I expect snowpack stability to be extremely low today thanks to rapid temperature drop and heavy windblown accumulations last night. Definitely a day to stay on piste where no shortage of fine powder will be found directly adjacent to the pistes. Temperatures are slightly colder than normal at -10c and the crowd levels are low. Expect few lift lines.
Yesterday was a poor day for comfort skiing and snowboarding with light rain falling for much of the day. However the snow was slushy, quite fast and didn't become too sticky. So the quality was ok considering the precipitation. The rainfalls hardly made a dent in the deep winter snowpack providing a slight consolidation below the three meter mark up top. As the freezing level dropped during the afternoon the upper slopes froze and became hard and icy.
Nozawa Snow Report 31 January 2017: Forecast
We should see light snow showers ease throughout today with perhaps even some breaks of clear weather later in the afternoon. Tomorrow will be a partly cloudy morning before high clouds roll over signifying an approaching cold front. More heavy snowfalls are expected tomorrow night and these will continue into Thursday and Friday. Temperatures will be generally cold, warming by half a degree or so by Friday. A clearing trend is forecast later in the week and the weekend looks like it'll be generally fine. More snow is on the cards for early next week.
The Nozawa Onsen Snow Report is presented & supported by
Nozawa Holidays
and
The Daily Flake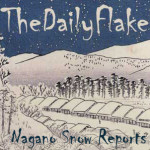 Nozawa Snow Report 31 January 2017