Nozawa Onsen Snow Report: 12 April 2014 and that's a wrap
As you've probably guessed by now the season is just about done here. There are still some lifts open with keen skiers enjoying the sun and spring conditions. There is some ski cross on this weekend as well as a chance to check out some demo skis and boards for the 2014/15 season. Some lifts will stay open until the end of Golden Week here (May 6) or if the snow runs out sooner. Of course it's naturally a great time to be out in the backcountry.
Base up top (Yamabiko): 295 cm
Temp Top: 5 Degrees
Base at Uenotaira: 210cm
Base at bottom: 100 cm
Weather: Bluebird springtime goodness
See the Nozawa Onsen webcams for current conditions.
The snow this season has been a bit inconsistent but there's also been plenty of great Nozawa pow days. A big thanks to Mark and and all the crew at Nozawa Holidays for their help with the reports this season. You guys rock! Some of them were over visiting Myoko this week for a tour to Mount Huichi.
So if you are thinking about your Nozawa ski trip for next season already you can book some Nozawa accommodation deals right now or check out the great packages at Nozawa Holidays.
Don't forget! Got a great Nozawa ski video from this season that you'd like to share? Or would you like to show yourself off at The Daily Flake to the world by presenting a guest Nozawa snow report? Upload your best efforts and then contact us with the details! Note: We are not a fan of 5 minutes of polecam face shots. Sorry, we prefer something a little more creative.
The Nozawa Onsen Snow Report is presented & supported by Nozawa Holidays and The Daily Flake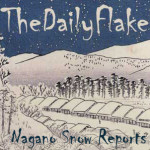 Nozawa Onsen Snow Report: 12 April 2014 and that's a wrap